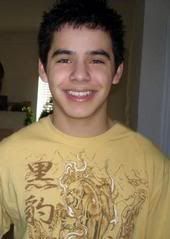 *whew* Revenge is sweet!
David Archuleta
not just dominated iTunes but this time his song: "
Crush
" is climbing thru the top of BillBoard Hot 100! Even locally, he topped the charts of RX 93.1 *yay*
David Archuleta's Crush is:
1. The highest new entry on the Hot 100 of 2008.
2. The highest debut ever on the Hot 100 for an American Idol song not performed on the series.
3. The highest-debuting single on the Hot 100 since the No. 2 bow of Fall Out Boy's "This Ain't a Scene, It's an Arms Race" the week of Feb. 3, 2007.
4. Archie's peak position to date on the Hot 100 is
higher
than the winner,
David Cook
. Bronson says, that although the record may be temporary, Archie is only the "second runner-up to outperform the "Idol" winner from the same season. The first was Clay Aiken, who went to No. 1 in 2003 with 'This Is the Night' while second season champ Ruben Studdard peaked at No. 2 with 'Flying Without Wings.'" Cook's coronation single, "Time of My Life" peaked at #3 on the Hot 100.

5. "Crush," which debuts at No. 1 on Hot Digital Songs, is the 4th entry for Archie on the Hot 100. His first 3 all debuted the week of June 7 and spent one week each on the chart: his version of John Lennon's "Imagine" at No. 36, Elton John's "Don't Let the Sun Go Down on Me" at No. 58 and "In This Moment" at No. 60.

6. "Crush" is the 7th single to debut inside the top 10 of the Hot 100 in 2008, including Taylor Swift's "Change," which enters this week at No. 10. Bronson posts a summary: No. 2: "Crush," David Archuleta (Aug. 30) No. 3: "The Time of My Life," David Cook (June 7) No. 5: "Burnin' Up," Jonas Brothers (July 12) No. 8: "Tonight," Jonas Brothers (Aug. 16) No. 9: "New Soul," Yael Naim (Feb. 16)No. 9: "Forever," Chris Brown (May 10) No. 10: "Change," Taylor Swift (Aug. 30)

infos from: mjsbigblog.com