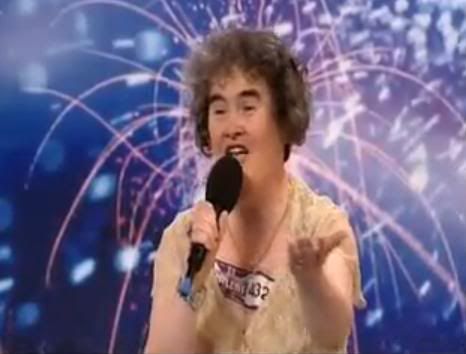 Susan Boyle
, 47 is a Scottish church volunteer and amateur singer who came to public attention when she appeared as a contestant on the 3rd series of
Britain's Got Talent
. Susan Boyle leapt to almost immediate global fame when she sang "I Dreamed a Dream" from Les Misérables in the competition's first round.
Before she sang, both the audience & the judges appeared to express scepticism based on her age and what was seen as an unattractive appearance. In contrast, her vocal performance was so well received that she has been dubbed "The Woman Who Shut Up Simon Cowell". She received a standing ovation from the live audience, attracting yes-votes from
Simon Cowell
and
Amanda Holden
, and the "biggest yes I have ever given anybody" from
Piers Morgan
.