Waaahh, this is the show that change my viewing habit! Now when it's already 4 pm i'm having this weird 'kilig' feeling, Nyaah! The show is so 'kilig' i'm so loud when i'm watching Hana Kimi, i'm laughing like crazy even i'm alone, Hana Kimi is one of the few shows i religiously following aside from
PBB
The characters [on pic] is 'Brian Zuo' played by Wu Chun, 'Joey' played by S.H.E. member Ella, and my favorite 'Wesley Jin' played by Jiro Wang.
Never heard of Hana Kimi? here's a synopsis:


Three years prior, a girl named Joey(Ella Chen) saw high jumper Brian Zuo (Wu Chun) on television and was inspired by him. She decides to transfer to his school, Y.K.(Ying Kai), and become his friend, even though the particular school he attends which is strictly boys-only. So Joey disguises herself as a boy. After a shaky start, including a rude collision with Brian outside of the classroom, Joey is able to settle in at the school. By a stroke of luck, she has been assigned to be Brian's room mate.

Soon, she is accepted as a normal student, but after sustaining an injury to the head, her gender is discovered by MJ Mei - the gay school health official - and Brian (whom she does not realize knows her secret). MJ becomes her confidant, but Brian keeps Joey's secret to himself in order to protect her identity and keep her by his side. Wesley Jin (Jiro Wang) begins to question his own sexuality when he finds himself attracted to this new student, whom he believes to be male.

They all become great friends and overcome many obstacles along the way, such as the inter-school competition where Joey was harassed by fellow students in the No. 1 dormitory, Wesley Jin's accusation of cheating and several other times when Joey's identity was at stake. The main couple, Joey and Quan, fall deeper into love without noticing over the course of the series.


Even if Wesley (Jiro Wang) is not one of the main couple, i still like him! even before in his Started With a Kiss days. He looks like a cartoon, really! the way he act, his wackiness, his over-acting mouth ;) I wonder why he always open her mouth like that, but he's cute that way. Even 'Joey' is like that, the two act too much exaggerated, which is funny by the way.




Jiro Wang [Jiro Wang Dong Cheng]

Birthday : August 24, 1981 (age 26)
Horoscope:Virgo
Blood type:O
Height:180cm
Shoe Size:7.5
Education:Fu Hsin Tade & Arts - Advertising Design
Hobby:sports、music
Specialty:singing、graffiti
Pet phrase:You're not joking, are you?!
The most embarrassing incident: once wore his top inside out
The most memorable event:college's graduate ceremony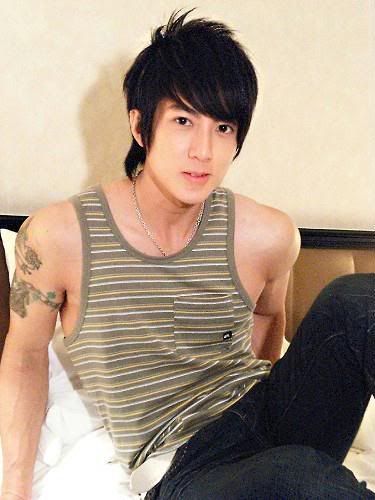 The other cutie, Wu Chun [Goh Kiat Chun]
Ancestry: Chinese
Origin: Brunei Darussalam
Born October 10, 1979 (age 28)





Ella Chen [Chen Chia-Hwa or Chen Ai La]

Origin: Republic of China (Taiwan)
Born: June 18, 1981 (age 26)
Pingtung City, Republic of China (Taiwan)






Hana Kimi Theme Song + Music Video (Zen Me Ban by S.H.E.)

wei she me ni wei she me
lao shi ba kong qi quan dou xi guang le
hai de wo ni hai de wo
zai ni mian qian hu xi ji zu xu yao jiao jiu hu che
bie kan wo xian bie kan wo
wo de lian hong jiu kuai yao bao liao le
mei she na you she me
wo shi jue dui bu hui cheng wo xi huan ni le

zen me ban gan jue tian you suan
tou tou ai ni kuai le you gu dan
zen me ban ai que bu neng jiang
ni zhen tao yan bu lai bang wo de mang

ni zen me ke yi zhe yang xiao rong da bai tai yang
sheng zhi bi wo hai yao geng hao kan
wo sui wu li di dang(kang) dan shi ri zi hai chang
zong you yi tian rang ni wei wo feng kuang

wei she me ni wei she me
zhe yang bu jiang li de jiu chu xian le
hai de wo ni hai de wo
lian jin you de yi dian jin zhi you ya quan dou hui le
kao jin wo bie kao jin wo
dao di li ni duo jin bi jiao hao ne
wan dan le wo wan dan le
wo zheng ge ren yan kan jiu kuai yao bu shi wo de le


English Translation

How come, how come you always breathe in all the air
making me, you make me, need to so breathe quickly in front of you that an ambulance needs to be called
don't look at me, first don't look at me, my face is so red that it's about to explode
nothing really, is there anything? I refuse to admit that I like you

What to do, the feeling is sweet and sour
Secretly loving you, happy and lonely
What to do, love but can't say it outloud
You're so troublesome, can't help me out
How can you be like this? Your smile defeats the sun
To the point where its even better than mine
Even though I can't resist, but days are long
One day it will be you who's crazy over me

How come, how come you, appear so suddenly?
Making me, you make me, destroying my gracefulness
Come closer, don't come closer, how close should I stay from you?
I'm dead, I'm dead, I soon won't be myself

What to do, love but can't say it outloud
You're so troublesome, can't help me out
How can you be like this? Your smile defeats the sun
To the point where its even better than mine
Even though I can't resist, but days are long
One day it will be you who's crazy over me

What to do, love but can't say it outloud
You're so troublesome, can't help me out

Hana Kimi Latest episode upload on Youtube






kilig episode! ang likot likot ni Wesley d2! LOL


video by: decoy448