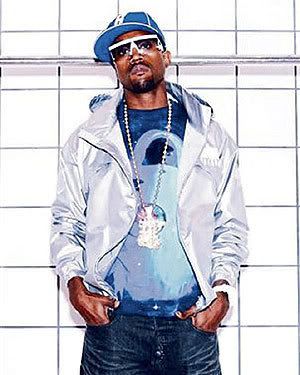 Kanye West
closed out the
2008 MTV Video Music Awards
with a performance of a brand new track dubbed 'Love Lockdown' off his upcoming album.
"
Love Lockdown
" is Kanye's most recent single, to be released on September 8, 2008 off of his untitled 4th studio album. Kanye West performed the song as the "explosive finish" to the 2008 MTV VMAs on Sunday. The song marks a drastic departure for KanyeWest, standing as his first solo single to feature no rapping, and is instead sung using Auto-Tune.
Watch Kanye's 2008 MTV VMA performance of Love Lockdown after the jump.



Love Lockdown - Kanye West Music Video






Love Lockdown - Kanye West Lyrics


i aint lovin you
the way i wanted to
but wat i had to do, had to run from you
im in love with you, but the vibe is wrong
and that haunted me, all the way home

so u never know never never know
never know enough til its over love
til we lose control, system overload
screamin no no no no

i aint lovin you
the way i wanted to
see i wanna move
but cant escape from you
so i keep it low keep a secret code
so anybody else dont have to know

so keep your love lockdown
your love lockdown
(x3)
so keep your love lockdown
you lose

i aint lovin you
the way i wanted to
i cant keep my cool
so i keep it true
i guess im to lose
so i gotta move
i cant keep myself & still keep you too

so i keep in mind when im on my own
somewhere far from home
in the danger zone
how many times did i take for it finally got through
you lose, you lose

i aint lovin you
the way i wanted to
see i had to go
see i had to move
no more wastin time
we cant wait for life
we're just racin time
where's the finish line

so keep your love lockdown
your love lockdown
(x3)
so keep your love lockdown
you lose

i aint lovin you
the way i wanted to
i bet no one knew
i got no one new
know i said im through
but got love for you
but i aint lovin you
the way i want to

gotta keep it goin keep the lovin goin
keep it all along?
only God knows if ill be with you
baby im confused
you choose, you choose

i aint lovin you
the way i wanted to
but i got to go
i dont need you
ive been on this road too many times before
i aint lovin you the way i wanted to

so keep your love lockdown
your love lockdown
keepin your love lockdown
your love lockdown
keepin your love lockdown
your love lockdown
keepin your love lockdown
you lose